We have all heard the term 'existentialism' and perhaps even know the names of some of the most famous existentialists.
Like Jean Paul Sartre. And… Uh, okay, that's the only one I can think of now. Let me Google it…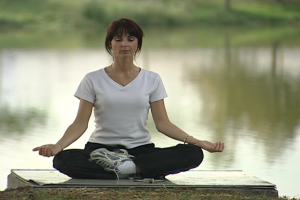 All right, Kierkegaard, Nietzsche, Dostoyevsky… I thought Dostoyevsky was a novelist?
Or the goalie for the New York Rangers?
Anyway I had heard the term 'existentialist' and knew that it had to do with philosophy, the meaning of life and…
Uh, okay, I wasn't exactly sure what it meant. But I had a sense that people involved in it had beards and eventually became miserable.
After all one of Sartre's books was titled 'Nausea' because that's how he felt when he contemplated the meaning of life.
My Kingdom for A Dictionary
But if I look up 'existentialism' in my dictionary… "Ava? Where is our dictionary?… I did? When?… Oh right…"
But if I Google the term existentialism… It has to do with understanding who we are, based more upon our experience as individuals than on very scary moral beliefs or dry measurable scientific facts.
The exist in existentialism is about human existence. Your existing. Your being and way of being and experience of life.
(If one of our thousands of members can clarify this better than I just did, which shouldn't be hard, please do.)
I am A Discoverer!
So discovering that you fall into the ADHD spectrum is an 'existentialist' discovery. Sounds cool doesn't it?
You are suddenly realizing that your life, how you've been living it, your 'existence' has been impacted by something that you never knew was there. Until now.
No wonder so many people with ADD say, "It was like being struck by lightning."
Suddenly who you are, or rather who you think you are, is shattered. For me it felt like everything was up for grabs. Scary. And thrilling, right?
I could see that a lot of the 'free choices' I had made about my career, marriage, raising the kids, friends, hobbies, etc.. were actually being influenced and impacted by my ADHD.
In ways I never appreciated. And never could have appreciated because the explanation, ADHD, wasn't on my radar.
Suddenly I understood why I wrote short comedy skits rather than long screenplays. Or Russian novels.
I was at the mercy of this hidden saboteur. And it had put severe limits on me. But as I learned more, I could see the limits…
Let me use an analogy. If you don't like doing sports because it's not 'something I'm good at', that's fine.
But if someone points out that instead of shoes, you have two large balls of concrete on your feet, and they've been there your whole life, well, now you can choose to keep em there, "I'm used to them," or you can choose to hire someone with a jackhammer to help you remove them.
(Okay, weird analogy, but you get what I'm saying.) (I hope.)
So taking on my ADHD is about giving myself freedom and choice. And that's an ongoing process. The more I learn, the more freedom and choice I have.
Are you with me on this?
Best,
Rick Green
Benefits of Becoming a TotallyADD Patron
Twice a month live chats with ADHD experts
Exclusive early access to our new videos
A free copy of our video 'Tips For an Organized Life" (a $9.99 value)
Access to our Discord community
and more!
For as little as the cost of a cup of coffee a month you can take part in live Patreon community discussions with Rick Green + see our new videos first + other perks
About TotallyADD
TotallyADD.com is an independent website created & owned by Big Brain Productions Inc. (Rick Green).
Our amazing Patreon community, and purchases in our online shop pays for content creation. We are independent advocates who are supported by community members like you!