Have you heard about bullet journaling? I was not that familiar with it myself until fairly recently. When I started using one, and asking some of my clients if they wanted to try it to see if it would work for them, I started to get pretty impressed!
The creator of the bullet journal, Ryder Carroll, was diagnosed with ADHD at a young age. He set about to find a method or system of organization that he felt would work for him and his needs. Ryder describes the bullet journal as ¨a mindfulness practice disguised as a productivity system¨.
Wow! That really impressed me, and it is why a bullet journal is different! It works as a diary to write down all your thoughts and feelings, and reflect on them. It also works as a space to organize everything you want to do, and need to do.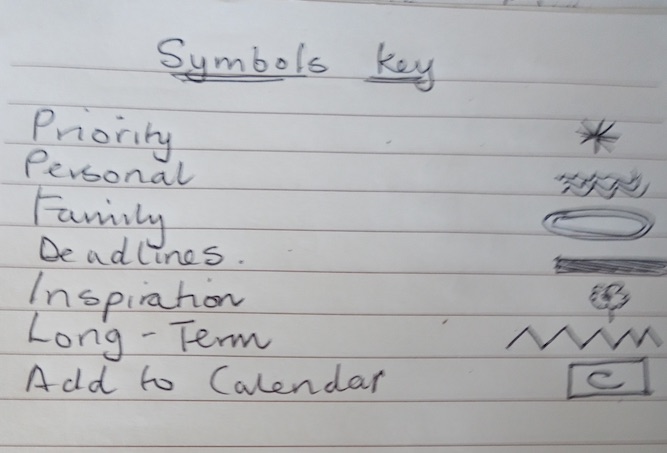 We all know that organization and time management are two of the biggest challenges for folks with ADHD. Adding to the challenge is the fact that there are all kinds of suggestions for organizational systems. There are apps, paper agendas, electronic agendas, specialized platforms, and lots of options… which you may have tried. They may have worked. But maybe they just do not motivate you at all!
Bullet journaling is also a system for getting organized, and they can help with prioritizing, and managing your time, setting up appointments, creating to do lists and so on. But they work in a unique way which makes them stand out from the other organizational systems and apps that are popular.
However, this is not a completely new idea! You may find that to some extent you may have been doing it yourself in one form or another, and you did not even know it!
In this article we are going to explore ways bullet journaling may help you! But first let's get clear on what bullet journaling is, in bullet journal style.
What Exactly is a Bullet Journal?
An organizational system which is unique to you
A journal, agenda, to do lists, and calendars all rolled into one
A diary, but actually more of a super diary, or maybe you could call it a mega diary
---
How is a Bullet Journal Different From Regular Journals?
Most journals help you keep track of appointments and dates. Bullet journals can include those things, and so much more, depending on what you plan to use it for.
A bullet journal encourages you to write down how you feel, set your intentions and examine your goals.
You don't have to wait till January to start creating it. You can start it at any time of the year.
Ideally, a bullet journal works as a system of productivity, as a space to reflect on your goals
It's a creative and fun process, and you can really make it your own by taking the time to create it and make it. It is unique to you and your goals. Customized for you.
It is a way to get everything roaming round your mind down on paper
It can be very visual by using symbols as shorthand to indicate things as a priority, short term goal, reminders and so on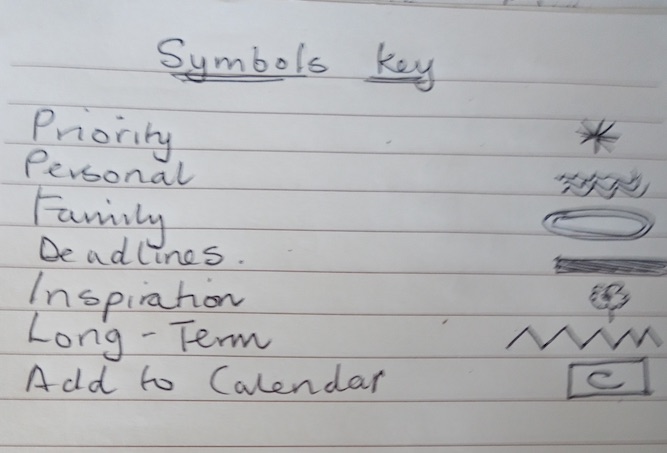 Easy Steps to Get Started on a Bullet Journal
To get started you will need a blank, or dot grid journal and some pens. I like using lots of different colors. Maybe even some stickers.
Once you have acquired your physical notebook or journal, consider what the purpose of your bullet journal is.
Here are some areas to look at to help you decide what your journal will be used for:
Getting started on tasks.
Specific challenges.
What do you want the bullet journal to do for you?
How will it best serve you?
Is it to track and stay ahead of your to do list?
Is it to help you in setting and achieving your goals?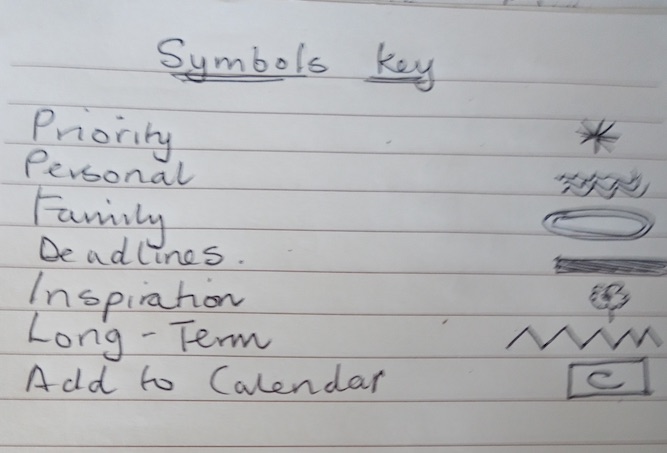 How to Make Your Perfect Bullet Journal
Start with any kind of notebook, or blank page journal
Divide the notebook into sections, or categories that you want to include. Here are some suggestions:
An index
A tracking system for symbols*
Calendar
A daily to do list
Notes, tasks, priorities
Food, fitness and fun logs
Finance log
Reading log
Future log
A weekly or daily summary
Monthly log, an overview of the month, and list of tasks
Inspiration – a place to include quotes, affirmations, and so on
Space for bullet point notes**
Goals – long term, and short term
Reflection – kind of like a personal diary section
*Symbols are used to help categorize different sections, tasks, thoughts, or events on your calendar.
** Avoid full sentences and use bullet point format/ keywords and phrases.
If you'd like some inspiration, here are some sample layouts.
A bullet journal is non- linear. It is not necessarily sequential or chronological, which may work better for folks with ADHD!
---
It helps you to write down all the different thoughts going around in your head on absolutely everything from deadlines, goals, to do lists, emotions, priorities, expressing your frustrations. In short, it acts like a brain dump to get everything out of your head! However, there are no hard and fast rules! The great thing is that you can personalize your bullet journal according to your own preferences. It can be as messy, or as beautiful as you like.
Make it and claim it to be uniquely yours!
Here is the best part, there are no rules! If something doesn't work, change it up, and down the road – change it up again. It won't be boring, and you will find a method that you really enjoy – one that really works for you.
About The Author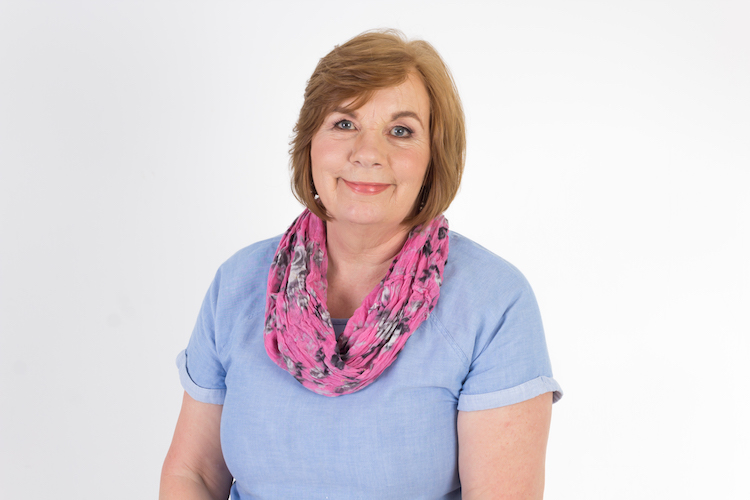 Sally Forsyth is a trained ADHD coach working with adults and young people. She offers support to manage unique challenges faced by individuals with ADHD and offers strategies for success in their personal and professional lives. For more information check out her website at www.coachmyfuture.com
Other Resources:
About Bullet Journals
Guide to Bullet Journals
Bullet Journal for ADHD
Bullet Journal Primer
Disclaimer: We may get commissions for purchases made through links in this post