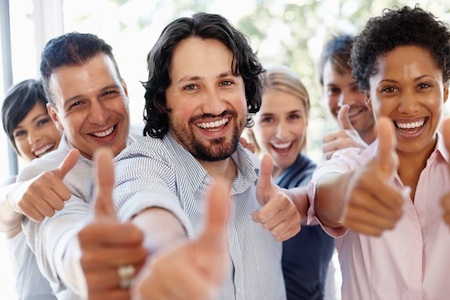 By Brian Mowery (Guest Blogger)
For three years now, I have been facilitating a peer support group for adults with ADHD.  I created this group as a result of not having found one already in place.
And I wanted one.
Diagnosed with ADHD at the age of 40, I went through all of the initial shock, denial and then the cascading 'ah ha!' moments, so many of us experience.
Then I felt the need to find help.
I discovered that while there were loads of resources for children with ADHD, and their parents, there was precious little for adults with ADD. 
And being the sort of person that I am, seeing an apparent need in the community, I was highly motivated to try and fill the gap somehow.
I've Spread The Word.  Now What?
Once I had done all of the preliminary planning and research, booked the location, and spread the word, I waited until the day of the first meeting.
Sitting in the room I'd prepared, I was convinced that no one was going to show up. 
What was I thinking?  How could I, an adult with ADHD, hope to effectively create and plan a support group for others with ADHD?  I couldn't even find my wallet most of the time.
And I was certainly no expert on the subject— not a doctor, nor a therapist, just a guy and overall relatively new to ADHD myself.
But before my self-doubt and panic reached a peak, people started arriving.
I had seven attendees at my first meeting, and two of those were from out of town. Apparently my city wasn't the only one that needed a support group!
The Response Was Amazing
Since that first meeting, I have been amazed at the response, and the gratitude that the group has earned. 
The reason I think the group has been successful stems from the idea that, among the group, no one person or interest should be placed before anyone else.
We have no personal agenda, we aren't affiliated with a clinic, a therapist or a pharmaceutical company.
And don't get me wrong — those things are valuable, and often necessary as a means to manage one's ADHD.
But there is something to be said for mingling with your peers, people who have similar experiences, similar problems and similar insights.
It's all about that invaluable moment when you hear someone say something about their life, and you think, "Wow! I thought I was the only one!" And if you are really lucky, you will hear how that person dealt with that situation, and be able to learn from it.
Holsitic ADHD?
I'm a big believer in a holistic approach to managing ADHD.
There are many options available, but any one path of treatment taken in isolation has a great chance of failing when it comes to improving your situation or outlook. 
For example, the phrase, 'pills do not teach skills', means you can't simply pop a stimulant once a day and expect your ADHD will just be gone.
They are taken as a means to reach an equilibrium that will allow you to learn new ways of behaving, with an eye toward reducing or removing the need for medication at all.
That is why experts always recommend some kind of therapy go hand in hand with the prescription to achieve real growth.
So, it's because of my holistic outlook that I feel a peer support group is yet another ingredient to a balanced treatment plan.
To put it another way, I have at times been 'the guy in the chair' telling a therapist all my troubles, and receiving professional treatment as well as prescriptions.
For me, that was helpful and necessary.
But I always felt somehow inferior in that setting. The person sitting across from me doesn't really know me, and has all these credentials which allow him to analyze me, and break me down into component parts so he knows how to treat me.
This has just been my personal experience, so, not knocking therapists. But I will make a comparison.
By Comparison
I can tell you that after having been a part of my ADHD peer support group for a few years, it is a completely different dynamic than anything else.
We aren't just random people who come together twice a month and then depart. We have actually become friends.
We socialize outside of the group. When we meet, we may not always follow the agenda, maybe we just vent about what's bothering us.
We curse and make inappropriate commentary when we need to. We even joke about our own ADHD because we've helped each other come to terms with it over time.
Basically, we feel comfortable enough with each other that we can speak and behave in ways that we might not think appropriate for a therapist's office.
Sometimes it seems more like a party than a support group!
For me, this has been the most surprising benefit of running the group: this realization that a shared 'kinship' in ADHD, if you will, has a power that perhaps therapy doesn't.
And that is the power to relate to other people in your situation and share experiences from the same perspective.
Don't Be Scared
We have had numerous newcomers to our group, and more often than not, they come into the room looking anything from despondent to downright scared.
They have either just found out through a diagnosis or perhaps they have known for a while and have just reached a really low point with it.
They all come with their own misgivings and personal issues, much as we all did at the beginning.
But within minutes of the meeting being underway, you can see them relaxing.
By the end of the meeting, all apprehension is gone and they are asking me when the next one is so they can come back — because they have found something they haven't found elsewhere.
I'm certainly not saying any of this to toot my own horn.
I am proud that I have been able to provide this to my local people with ADD, of course.
But I consider myself to be a member more than the creator of the thing. I need it as much as anyone else, and at the end of the day, the group belongs to all of us and we all maintain it.
Another Level of Managing you ADHD
My point with this writing is simply to say that peer support is another level to managing your ADHD.
That is why groups like mine, TotallyADD's Patreon Community, and sites like TotallyADD are very much needed. The shared experience is so necessary to expedite your healing process or growth initiative.
The knowledge that you are not alone and that you don't have to be alone is very liberating. So if you are lucky enough to have an ADHD group in your area, I strenuously urge you to check it out.
And if you don't, you might consider starting one!
A note from Rick Green:
I've been lucky enough to be invited to be a guest at many support group meetings. It's so great! That's how I had the pleasure of meeting Brian Mowery.
Thank you Brian, for writing and letting us know how you started your group, and the difference it makes for so many.
Brian and 18 others from support groups took part in our soon to be released video, ADHD Medication: Straight Answers to Big Questions.
He hits the nail on the head.
Having support is key when you're learning about ADHD, and especially when starting any treatment plan. Please take up Brian's suggestion and join or start a group. I also invite you to become a Patron of TotallyADD and take part in our regular live online chats, facilitated by me.
---
Best,
Rick
For as little as the cost of a cup of coffee a month you can take part in live Patreon community discussions with Rick Green + see our new videos first + other perks
TotallyADD.com is an independent website created & owned by Big Brain Productions Inc. (Rick Green). We tell you this because so many people ask if pharmaceutical companies paid for any of this and the answer is absolutely not. Purchases in our shop, and our Patreon community pays for content creation