My last blog described a case history of a very obese male patient who could not manage any diet or lifestyle changes, while being very adept at running a complicated business.  Let me tell you what we found out about Peter.
Most days I see several new patients who were referred to me for the management of obesity. As obesity has become public health problem number one, everyone working in this field is trying to figure out why we have an ever increasing number of kids and adults who are overweight or obese, and as a consequence are facing serious health risks.
By Rick Green
I used to suffer from ADHD.
Because I didn't know that's what it was.
Hard to win a wrestling match against an invisible opponent, if you don't even realize you are in a wrestling match.
So I just suffered. Mostly in silence. Cause people got tired of hearing my problems, my excuses, my apologies…
<![CDATA[ Sleep.  Ah, glorious sleep.  According to my FitBit I actually got well over the recommended 8 hours of  sleep… […]
Alarm bells were ringing, "I have a mental illness?" No, I have a mindset that is different from most people, and I've always had it.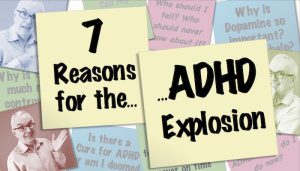 <![CDATA[ "Why the explosion in ADHD diagnosis over the past decade? Is it over diagnosed? Are the number of cases […]
<![CDATA[ Love This Video? We'd Love to create more but we need your help! Become a Patron! When we were […]