My last blog described a case history of a very obese male patient who could not manage any diet or lifestyle changes, while being very adept at running a complicated business.  Let me tell you what we found out about Peter.
By Rick Green
I used to suffer from ADHD.
Because I didn't know that's what it was.
Hard to win a wrestling match against an invisible opponent, if you don't even realize you are in a wrestling match.
So I just suffered. Mostly in silence. Cause people got tired of hearing my problems, my excuses, my apologies…
"My whole family is like this…" Ah, let me tell you about the strong genetic component. It's highly heritable. "What? Oh…"
BY LAURA MACNIVEN
Let's start by saying that it can be really exhausting living with ADHD: for you and for your partner. When we depend on our executive functions to manage our jam-packed lives, we can quickly feel de-railed and impatient. The words frustration and overwhelm come to mind. So, none of these suggestions are easy. Just holding it together is often all you can handle, but here are a few things to keep in mind…
<![CDATA[ Sleep.  Ah, glorious sleep.  According to my FitBit I actually got well over the recommended 8 hours of  sleep… […]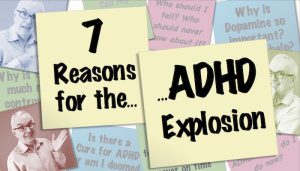 <![CDATA[ "Why the explosion in ADHD diagnosis over the past decade? Is it over diagnosed? Are the number of cases […]
<![CDATA[ Love This Video? We'd Love to create more but we need your help! Become a Patron! When we were […]